Joseph Deon McGhee is the only reason you are here.
This company would not exist without his existence, nor without his transition.
This year, Father's Day is harder than the previous years without Big Me. Maybe because all of my wildest dreams are an inch away from coming true. Maybe because I am constantly reminded of his absence when I realize how many lives this company can change and how many lives our adaptogenic products may save. Maybe it's because I didn't settle and never strayed. Maybe it's because I know how deeply his hand is involved in all of this sh*t. I know it's because he isn't physically here to witness any of it. That's a fact. I'm deeply f*cked up about that, but I feel his presence now more than ever.
For Father's Day, we'll be celebrating him with our shared fave—music. My entire existence is connected to music. I can't function without it. Daddie was the same way. When he'd ask for my Birthday or Christmas Wish Lists, they'd be full of CDs (before the digital age, sweetie). Daddie would come through with every, single one—even the explicit ones. That sh*t used to piss Mommy right TF off!
So, in celebration of my first love and my twin, I sat down with my brothers (Dame + Joshie) and curated the perfect Joe McGhee playlist. Made up of songs that he loved, songs we made fun of him for singing in his high-pitched a*s singing voice, songs he made fun of us for listening to (generational sh*t), songs that made him feel good, songs that made him THAT n*gga, songs that make us miss him, and songs that remind us he is always with us.
I'm not gon' hold y'all, but I do want y'all to know how grand my Daddie was in human form. Below is an excerpt from his obituary, because it just summarizes his entire life and greatness better than I ever could. Y'all deserve to know how magnificent Big Me was in human form, before y'all start purchasing LIVE YO' BEST F*CKIN' LIFE products with his name on 'em. *wink*
Our King.
Joe was the youngest of eight children, born to the union of Elder Willie McGhee, Jr. and Bernice (Edwards-McGhee) Crane, on October 13, 1963, in Chicago, Illinois. Joe was a member of All Nations Pentecostal Assembly Church in Chicago. Joe was active in the church choir, Sunday School and he played the drums and guitar. He was the only child in our family to attend pre-school and Joe excelled in school, often completing his work first. He was an exceptional baseball catcher and one of the team's best and consistent hitters on the nationally-recognized, award-winning Jackie Robinson West All Star Team.
Joe attended George Henry Corliss High School where he excelled academically and was a member of the Junior and National Honor Societies. He continued to excel as an outstanding athlete as a wide receiver on the football team and a catcher on the baseball team. As a high school sophomore, Joe played in a semi- pro summer baseball league. The always popular Joe was the Homecoming King during his senior year. Joe was heavily recruited to attend the University of Arizona and Jackson State University on athletic scholarships. He made the decision to attend Jackson State University on academic and athletic scholarships.
Joe was a scholar while attending Jackson State as a Business Major, was on the National Honor Society and graduated Summa Cum Laude. He played in the outfield on the Jackson State baseball team. During his sophomore year, he was drafted by the Detroit Tigers AA Farm Team, however, his family encouraged him to complete his education at Jackson State. While at Jackson State, Joe met a fellow classmate, Sylvia D. Turner and they were married on January 11, 1986. To this union was born Devin Ki'Elle and Damien Joseph McGhee. Devin was the "apple of his eye" and inherited her Dad's "charming" personality. Damien inherited his kind, loving, logical thinking, curious nature and has begun an encouraging corporate career, like his Dad.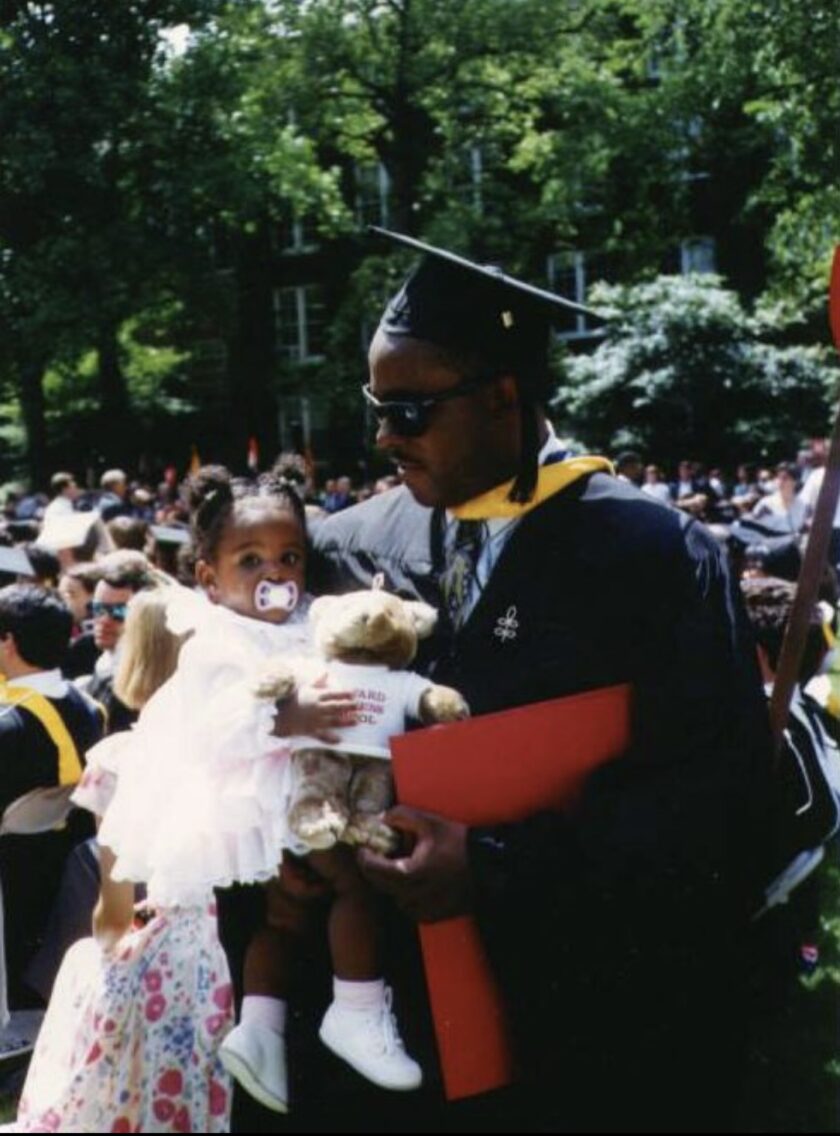 Before Joe graduated from Jackson State he decided to pursue a corporate career with dreams of one day being an entrepreneur. Joe pledged the Birmingham, AL Graduate Chapter of Alpha Phi Alpha Fraternity Incorporated. He then began his quest to attend Harvard Business School. Joe was persistent, in spite of having two applications to Harvard Business School rejected. He became the first Jackson State University graduate to attend and graduate from Harvard Business School. After Harvard, his career took off. He held executive positions with AT&T, AT&T Paradyne, Siemens, Scientific Atlanta, Avaya, Cisco Systems, Asurion, Tiverity and most recently Alvarez & Marsal. Joe has travelled all over the world and has had executive experience in the United States, Seoul Korea, China, Germany, South America, the Caribbean and the Pacific Rim Countries. He became an entrepreneur and was Chairman and CEO of American Biosurgical Holdings LLC, a specialty medical cable company from 2007-2009.
While working for Cisco Systems in Seoul Korea, Joe met Adrienne Park and they were married October 1, 2001. To this union was born Joshua David McGhee, an outstanding honor student and athlete just like his Dad, excelling in competitive swimming, track and field and football. Joshua may become the first "McGhee Olympian".
Joe never met a stranger. He was an incredible, concerned, caring, loving husband, devoted father and loyal trusted friend. He gave a great deal of time mentoring two generations of young people, his friends and family. Joe had a "big heart" and was a most generous person, giving in many ways. "If Joe could help you and you were in his orbit, he did."
Joe has been a Board Member of Crave It Foods, Synch Solutions, JDE Medical, LLC and Netstar-1; he was an Advisory Board Member of Kulper & Company and Board Chairman of American Biosurgical Holdings, LLC.
Awards and Recognition include: Executive Contributions and featured in the business book; Managing Knowledge-Based Initiatives; Strategies For Successful Deployment, by Stacy Land; Featured Protagonist in Stanford Business School Case: American Biosurgical; National Black Engineer of the Year for Technical Sales and Marketing; United Nations Citation for Outstanding Public Service; International Who's Who of Professionals.
Joe often attended Black Enterprise Magazine's Entrepreneur Summit; the annual National Black MBA Association Conference; Atlanta Harvard Business School Alumni meetings; and the Annual Black Harvard Business School Alumni Conference.
Hug ya' Daddie a lil' tighter, today. Kiss him, too.
Enjoy vibin' like my Daddie!
—Dev
A few songs
for your playlist
Mark Morrison
Return of the Mack
Future
Stick Talk
Cherrelle + Alexander O'Neal
Saturday Love
2Pac + Dr. Dre
California Love
Cameo
Candy