Veganism has highkey become trendy over the last few years, especially amongst the Black community, the fastest-growing vegan demographic in the country. Even we're leading the wave. After visiting a natural healer early last year, our CEO went vegan—cold turkey. Before going vegan, she couldn't sleep, she was tired all the time, and she wasn't pooping regularly. It was simple. The healer came in and said, "Too much inflammation. Go vegan." And just like that, plants became the main focus for every meal Dev ate from that moment on.
Let's be clear, going vegan has challenges. And depending on where you live, work, and bullsh*t, finding vegan food can be discouraging. So we had a Q&A session with Todd Turnip Vegan "not a chef," but a guy who simply loves vegan food and the way it makes him feel.
Turnip Vegan wants to change the way we look at food, from jerk chicken to pop tarts, simplifying veganism by creating easy-to-make recipes that taste good as f*ck! We get into how Todd became vegan, where the name Turnip Vegan came from, and his list of go-to ingredients for the meals he prepares. Lock-in!
Where did you first hear the term "vegan"?
The first time veganism really resonated with me was in 2014. I moved from Palm Springs to San Diego, and one day, someone I was dating decided to cook vegan food without telling me, and for a week straight, she was on this vegan trip. That was my first introduction to veganism. And that was the first time I heard "vegan," but I still didn't know what it meant.
At what point did you begin to identify as a vegan?
I was trying the food and saying to myself, it's not that bad. My friends–whom I partied with for many years–and I went to Vegas. And when I got back to San Diego, I felt horrible. Sick. And I had a moment like, this is repetitive. I'm continuing to make myself sick on purpose, drinking, smoking, hanging out, and partying; I wanted to make a change in my life. At the time, I was 39 years old and a lot of people in my family had gone down the wrong path and it was difficult to come back.
I turned the tv on to look for something to inspire me and came upon a documentary called Food Choices. It was a vegan documentary. I had no idea that this had anything to do with vegan. I see the words and think, this is going to help me make better food choices. [On the show], a gentleman said, "We're the only species that drink milk from another species," and that sent me spiraling. It had me questioning a lot of things we've been taught and told. I realized that we've been lied to about a lot of things, and that day, I started my journey.
How did veganism become a brand for you?
I searched for inspiration and food recipes online and didn't see too many people who looked like me. There were two people who stood out–they're so dope–and now, they're friends of mine: @badassvegan and @sweetpotatosoul. And I looked up to them because they were the only people who reminded me of myself. But, a bunch of my friends and family members were confused. "What are you going to eat?" "You're going to wither away." "Where do you get your protein?" I wanted to debunk them, so I said, I'll show you what we eat.
Where did Turnip Vegan come from?
Living in San Diego, we had options. And that's what inspired me to change my personal page into an influencer page. I looked at it as a way to show my friends and family that we're not just eating salads. I remember sitting back with a friend and asking, what am I gonna call myself? And at the time, everyone was going by something, vegan, and I wanted to put a twist on it.
Turnip Vegan came from, hey, turn up your health, turn up your knowledge, turn up the things that mean the most to you. Turnips are vegetables. And that's how it was born. This is the universe because this isn't what I intended to do. At the time, I was a university counselor recruiting students to attend Grand Canyon University. [Turnip Vegan] was a side thing and it changed my life. It opened up many doors.
What was your biggest challenge?
My number one challenge was cheese and bacon, two things I could put on any dish. I bought a Ninja the day after I went vegan and told myself that if I can't get full, I'm going to blend everything up and drink my meals. The first week, I struggled with feeling full and satisfied. A lot of that had to do with food choices; I ate a lot of salad and wraps.
The first 6 weeks were difficult. As a university counselor, I was on the road a lot. And at our events, they would provide food for us. It's a pile of bacon and eggs; all the things I couldn't eat, except potatoes. That's the day I went in. I said, I'm just going to cheat this one time. If I don't eat breakfast right now, I'm gonna be angry or in a bad mood. And I saw myself get up and get the bacon and eat it. I stopped myself.
What helped the most during those first six weeks?
Understanding protein. I went to an Indian restaurant and had masala and rice and walked out so full like, I can do this. Plants are a vibe. You can definitely get full off of plants. The moment I realized that protein doesn't come from animals–protein comes from plants and we're getting a secondary source from animals–I began breaking down mental walls.
How did that translate throughout the rest of your life?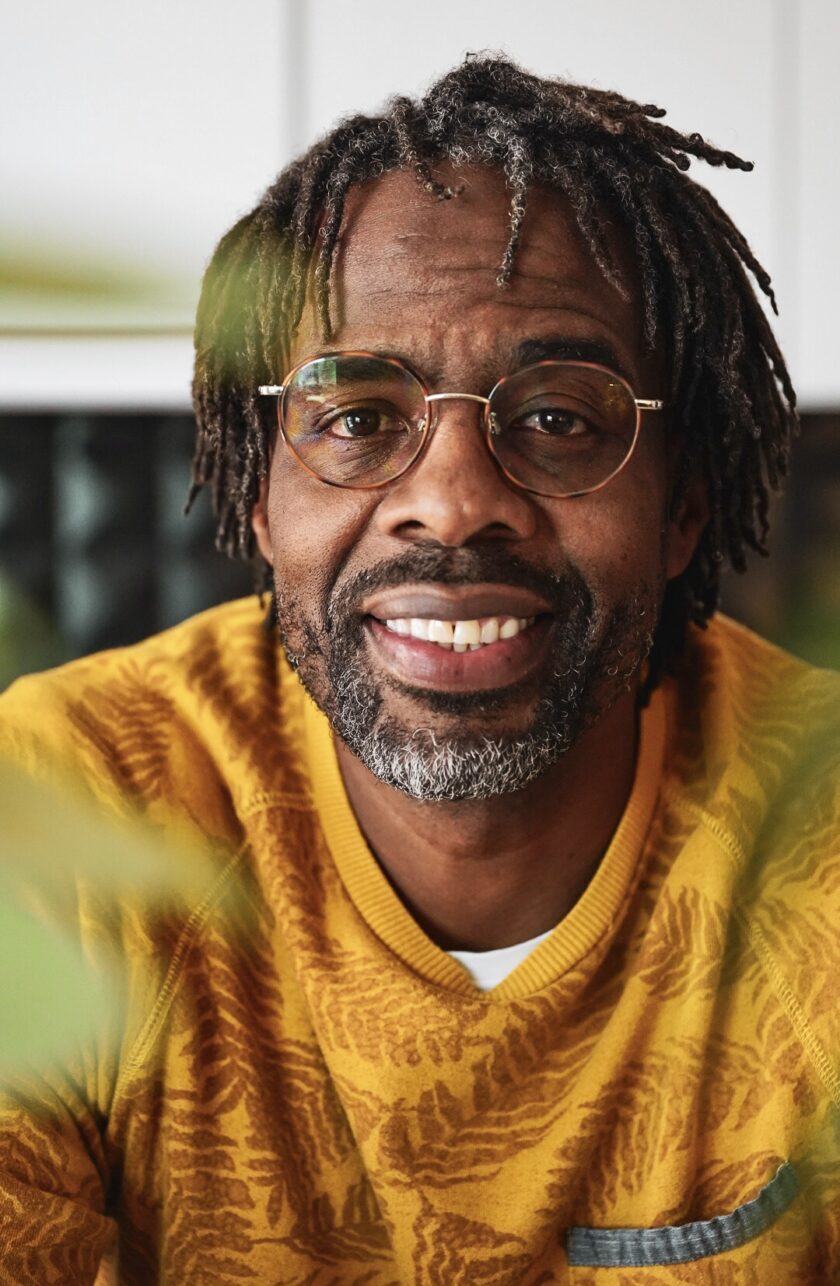 I am the person I am today because of it. That wall I tore down made me realize I have the power to make changes. You have the power to dictate where you're going to be in 5 years.
When I moved to San Diego, some friends invited me to go camping. And I thought to myself, camping is not for Black people. But during the pandemic, I decided to go camping and fell in love with being outdoors, and realized how much nature we miss because we don't think it's for us.
Recently, I bought an RV, and now, I'm part-time camping and part-time at home. Because of those small decisions, I'm a different person. Even to this day, tomorrow, I see more changes coming for my life based on the understanding that you have control over your life. No stereotype should box you in. Who we are should shine through.
How do you determine who to partner with?
I'm co-owner of Spoiled Vegans Cafe. When I went out to get investors involved, they wanted me to change the name and made me feel so bad. They made me feel like I didn't know the business. I didn't take on any investments; we did it on our own. Spoiled Vegans was successful because of the name. People would type "vegan" in Google and we'd come up; it was easy to find us. I remember investors saying, 'You're gonna box yourself in, and you need to be inclusive.' Most of our customers are non-vegan.
It's crazy how they try to put us in these boxes and don't want us to shine but want a piece of the shine for themselves.
I always make sure it aligns with what I do and breaks boundaries. I did a collaboration with A Dozen Cousins, a black-owned brand. Partake. I'm open to working with bigger brands that need more of our vibe in the mainstream. It's a dance between getting exposure for the community and my brand, and also supporting small businesses. The last time I checked, African Americans were the fastest adopters of veganism. We're waking up at a fast rate. And it's folks like Tabitha and @badassvegan who are giving us a mirror to look into and see ourselves.
How has your childhood influenced your cooking style today?
I've always been an athlete and worked out, but my food habits were trash before going vegan. The homies and I would pass a Snickers bar on the sideline, in the middle of a basketball game. I was horrible at making Kool-aid; I'd dump the whole bag of sugar in it. We ate mayonnaise sandwiches. It carried over to college where I continued to play basketball. And it carried over to raising my son. Coming from a background of eating whatever and not questioning what I put into my body.
I made a Surf & Turf burrito using lion's mane for the shrimp and seitan for the steak. I find myself recreating dishes I love, minus the things I don't want anymore. That has helped me understand flavor and texture. I've only been sharing recipes for about two years. In my first three years of veganism, I filmed everybody else. That led me to Hong Kong, Brazil, and the Amazon river where I climbed trees and picked fresh acai. In the last year, I've been recreating our favorite dishes like Caribbean and jerk, meals our taste buds enjoy.
Your go-to vegan brand is:
Follow Your Heart.
What are the main ingredients in every vegan dish you make?
If I have lion's mane mushroom, I can make breakfast, lunch, and dinner. I haven't made dessert [with it]. But lion's mane is very versatile and you can control its flavors; it's something that hasn't been tapped into. Walnuts. I was against tofu because of the myths around it, but I enjoy organic tofu. Cashews. Gotta have cashews. When I went vegan, I stuck with Impossible Meat. But this last year, I've been making my own.
Being in an RV, I'm limited. I grab spices. Always salt and pepper, a creole seasoning, a steak seasoning, onions, and red and green bell peppers. If I have a good sauce or marinade, a good spice, and texture, I'm good.
What are your thoughts on mushrooms?
My big moment was seeing the documentary Fantastic Fungi. Before that, I truly ducked mushrooms. There was only one mushroom I'd eat and it was a Nashville Fried Chicken sandwich [made with mushrooms]. I didn't care for mushrooms like that; the texture was chewy and weird. But after seeing that documentary, I realized mushrooms are important to life. They're the only species that can grow in the dark, in the water, and in hot areas. That opened my mind to mushrooms and I began exploring and growing them.
I bought a kit from North Spore and grew pink-oyster, golden, blue, lion's mane, and a few others. And the pink oysters grew in less than 5 days. If we can learn more about how to grow mushrooms, that's endless food. I grow lion's mane all the time. I bought a kit for $30. The first time I grew it, I got about 1lb. A pound normally costs about $20. I can probably make 3 to 4 dishes. With the same substrate, I flipped that thing over, sprayed it, and got three batches out of that one. Do the math.
Mushrooms are the future.
Follow Todd "@turnipvegan" Anderson on Instagram for no-bullsh*t vegan recipes.
This interview has been edited for length and clarity.